This customer specializes in high-quality revolvers. They wanted to reintroduce a front sight that had been out of production. Unfortunately, they no longer had the engineering drawings.
Demand for the front sight was unknown and the customer was searching for a high-quality, cost-effective solution that offered flexibility on minimum order quantities. 


Challenge
Given demand uncertainty, the customer could not justify the high tooling costs of metal injection molding (MIM). The challenge was finding a manufacturing solution to bring this legacy part back into production. The company did not have engineering drawings or a CAD model, only a physical part from current inventory.
Solution
3DEO reverse engineered the physical part into a CAD model to print the part. 3DEO printed first articles and began full production in less than four weeks, providing the customer with a solution before their inventory depleted. 3DEO's fast turnaround and scalable production was the ideal solution.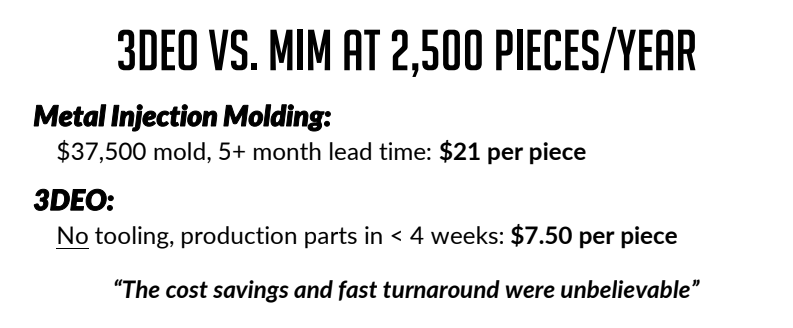 Benefits of Metal 3D Printing with 3DEO
Reverse Engineering:
Quickly and cost effectively manufacture out of production parts.
Low Volume Production:
By manufacturing on demand, metal 3D printing streamlines supply chain.
About 3DEO
Based in Los Angeles, 3DEO is a production manufacturer of small and complex metal parts for customers of a variety of industries. The patented metal 3D printing technology is directly competitive with traditional manufacturing in terms of part pricing, material properties, and quantities. 3DEO's part properties exceed the high industry benchmark MPIF Standard 35 while achieving tight tolerances (+/- 0.002″) and superior surface finish (100Ra).