3DEO announced its Saffron 3D printer, a platform designed for mass production. Read the article on Engineering.com here.
Since it was founded in 2016, 3D printing service bureau 3DEO has quietly been working on developing its metal printing technology. On February 24, after five years of development, the 3D metal printing company finally revealed its Saffron 3D printer and new digital platform, the Manufacturing Cloud.
The Saffron printer uses 3DEO's patented printing technology, called Intelligent Layering, which is a fusion of binder jetting and CNC machining that 3DEO claims is faster, cheaper and capable of higher resolution than binder jetting alone.
But the Saffron is not for sale—3DEO uses the printer in-house to build parts for its customers, and the company's new digital platform, the Manufacturing Cloud, is designed to facilitate this relationship. Ultimately, 3DEO believes it has what it takes to enable mass production of metal 3D printing.

To gain insight into 3DEO's strategy, Engineering.com spoke with Matt Petros, 3DEO's cofounder and CEO.
Why Is 3DEO a Service Bureau?
Petros explained that 3DEO's mission from the start was to give customers access to 3D-printed parts that competed with traditional manufacturing methods. The company also wanted those solutions to be available to every level of user, from an individual designer to a Fortune 100 company.
As a service bureau, 3DEO keeps its technology in-house, partnering with customers rather than selling its technology. We asked Petros why the company takes this approach.
"The problem with developing a 3D printer alone for a customer to use for internal production is that the absolute use—the product's purpose, the application, the design process, etc.—is blind to the 3D printing developer," Petros said.
He continued: "Because we at 3DEO partner with our customers, we know up-front what the intent is, and we can incorporate that into the designs from the very beginning. As a service bureau, we have basically chosen to share in our customer's problems with this business strategy, which is a much more arduous route, but it brings us closer to our customers and allows us to provide them with the best solutions while saving them time, money and risk."
A platform for serial production requires three key elements: predictability, repeatability and capability. For 3DEO, that meant creating a new approach to 3D printing metal components and focusing on the up and downstream processes that contributed to its production methodology.
"Ultimately, it involved forging feedback loops at the factory level that connected the quality output to the input perimeters to the 3D printers themselves," Petros said. "And rather than providing a set of complex tools for companies to use, we developed this software workflow that integrates all of our developed technologies together: the Manufacturing Cloud."
More Than Just a Printer
While there are always new innovations in 3D printers across the industry, 3DEO believes that 3D printing isn't just about the printer.
"It's our holistic approach to technology, software and hardware that finally allows 3D printing to be repeatable and robust enough for the types of complex and technical applications we produce here at 3DEO," Petros said. "You actually have to develop a printing process with each integrated step in mind. The printer is just one piece of the puzzle, and without this holistic approach to production, the overall process will become disjointed."
Since 3DEO's business model is to produce precision metal components for partners at mid to high volumes in a fraction of the time and cost of traditional methods, the company is responsible for a broader scope of technology than other manufacturers. With the manufacturing world in the midst of its own revolution, incorporating robotics, software, hardware and other technologies is essential.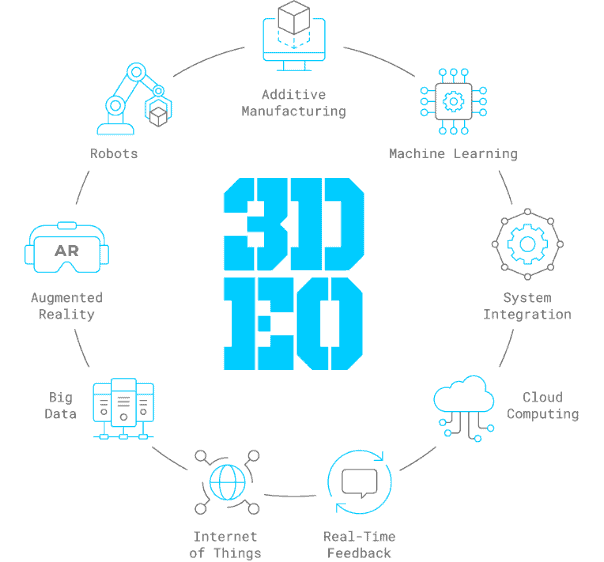 According to Petros, the reality of production is that every step of the process adds to its variability. After the part printing itself, there's the dimensional variation of the green part, the replicability of the sintering process, the repeatability of measuring, and so on.
"We produce in high volumes and a high mix of parts, with high mix typically being a pretty manual problem and not a great candidate for automation," Petros noted. "But the future of 3D printing for mass production is actually the future of mass customization. And as we continue to deliver on our vision to allow product innovators and designers to launch products at the speed of software, then the future is pointing to smaller and smaller run sizes, which will be dependent on our technical ability to create software and workflows to handle the automation of high mix processes."
Developing its 3D printing platform wasn't a solo effort, according to Petros. 3DEO took customer feedback to heart during the five years of development.
"We were getting pretty rough feedback in the very early days," Petros said. "While our parts were better than prototypes, we were competing with traditional high-volume manufacturing methods that these customers had been using for years. Here we were, making parts that we thought were good, and then once they hit a partner's hand, their face would tell all. But we could take that feedback and iterate internally. We took all that feedback and never stopped upgrading our systems accordingly."
A Manufacturing Paradigm Shift
Petros believes there's a paradigm shift happening in manufacturing, one he compares to the server industry in the late '90s. The capital required to buy server hardware and hire staff to maintain it created a divide between small and large businesses, he said.
"But then came Amazon Web Services (AWS), and it gave companies the ability to access state-of-the-art equipment and services," Petros said. "Companies didn't have to employ experts to stay up to date on the latest technologies, capital expenditures decreased, and infrastructure priorities could be placed in other areas of the business. It was a complete shift in the world of computing and the Internet."
For a 3D metal printing company, that shift is digitization on a global level. Other 3D metal printing companies such as Protolabs, Xometry, and Fathom are creating quick-turn systems for prototyping, quick-turn fabrication of circuit boards, and quick-turn digitized plastic injection molding. According to Petros, aside from saving customers time at the outset of their projects, this shift is actually democratizing access to tools and infrastructure like never before in manufacturing.
"Smaller companies may need to have smaller production runs or launch minimal products due to access to equipment or expertise, but by democratizing manufacturing, smaller companies and startups will have equal footing with the large conglomerates for access to state-of-the-art manufacturing facilities and quality infrastructure," Petros said.
3DEO aims to lead that shift and plans to have 125 of its Saffron printers available at its new 80,000-square-foot facility in Torrance, Calif., within the next three years. According to the company, these printers will be capable of producing over 20 million parts per year. Beyond the next three years, the future for 3DEO will be in distribution on a global scale. Its Torrance factory will serve as the blueprint for national expansion, as Petros hopes to extend operations globally into Europe and Southeast Asia.
"We don't necessarily consider ourselves a 3D metal printing company, but rather a vertically integrated end-to-end manufacturing platform powered by technology-agnostic software as our foundation," Petros said. "While we're continuing to iterate our end-to-end solutions, we're constantly expanding our platform development so we can innovatively plug into other manufacturing technologies. I wholeheartedly believe that it's this holistic approach to democratizing manufacturing with integrated software and hardware—built with our customers' input—that's going to keep constructing the future."