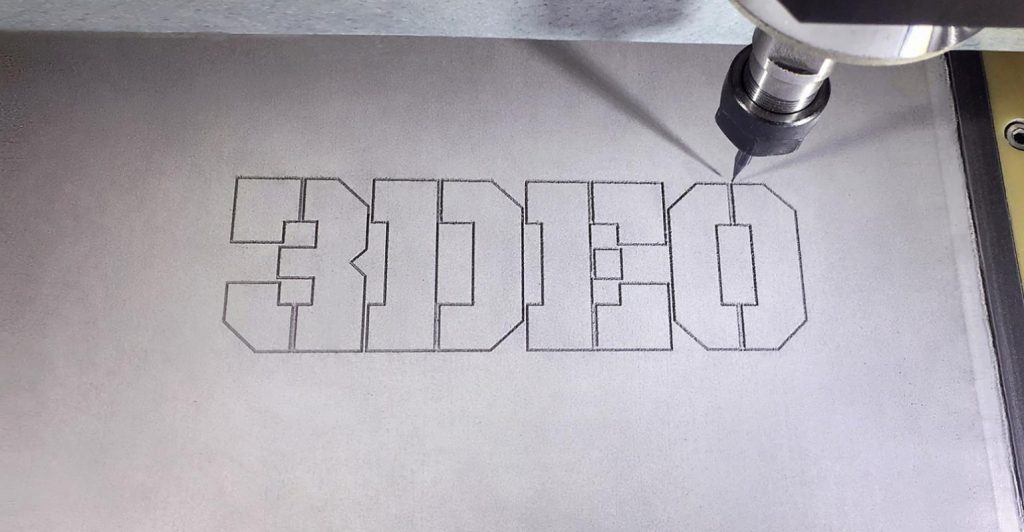 Full Metal Printing
3DEO's breakthrough metal 3D printing system could finally dig the industry out of the low-volume, high-cost trap.
Travis Hessman | Jun 16, 2017
Craig Paullin has a problem.
"About 20% of the inquiries I receive are either for prototype work or for low volume orders," he says.
As the owner and CEO of PSM Industries—a metal fabrication company out of LA specializing in metal injection molding (MIM), sintered metal, and powdered metal technologies—these requests are troubling.
For his industry, low volume orders usually means something counted in the tens of thousands or low hundreds of thousands of parts. But he keeps getting these inquiries for orders for dozens or hundreds of pieces—an impossibly and unreasonably expensive proposition in that market.
And to make it worse, they want those orders filled quickly.
"Things are moving at a faster clip," Paullin says. "We are still working in months, but these customers are starting to work in weeks and days. That doesn't work in this industry."
But still, these requests are coming. There is business opportunity there. Maybe a lot of it. But not with his current suite of technologies.
There aren't too many plant managers who wake up in the morning thinking they have to use more 3D printing. They say they need better designs and better throughput and better costs. A 3D printer needs to be a tool for that.
So Paullin turned to additive manufacturing (AM) for help. But, like many before him in his industry, he found that market sorely lacking.
"Looking at a lot of the technology that's out there, you know it's a million and half dollars just to get started, and what it gives you is a 100% dense product when what we need is more in the range of 80 or 90%," he says. "So all that extra money to get wrought conditions? It just wasn't worth it."
This has become a fairly common complaint in the 3D printing industry today.
Despite 30 years of steady progress and innovation, the core technologies behind the additive process have remained slow, excruciatingly expensive, and generally pretty far off industrial standards.
As Paullin notes, industrial grade metal AM machines—while bringing companies the ability to produce novel, impossible architectures and parts—can cost well over a million dollars. And that's not counting the premium rate of specialty additive manufacturing powders, new engineering talent, finishing equipment, and everything else that goes with a system to get it up and running.
This has left the industry with a pretty narrow market to play in—one-off, specialized parts for companies with a lot of money to spend and a lot of specialized, complex needs to fill.
That's great for companies like SpaceX and GE Aviation, but it leaves the vast bulk of manufacturers largely out of the game. And if this whole 3D printing revolution we've been dreaming of is ever actually going to come through, this has got to change. Soon. The market is filled with potential customers like Paullin, desperate for a solution, but discouraged by the state of the industry.
"OEMs are hitting a level of frustration with the relatively slow maturation rate of the companies that house these technologies," notes David Burns, principal and founder of Global Business Advisory Services, LLC.
Burns, who earned his credentials in the additive market as the president and COO of metal printing giant, ExOne, seems to share this frustration.
"The problem is that an awful lot of the 3D printing technology out there was created by people who weren't inherently aware of—or part of—the manufacturing community," he explains. As a result, "there is this big gap between a lot of the development work that is going on [in 3D printing] and the practicality of applying it to industry."
If additive ever wants to become a serious industrial player, he says, the machines need a serious industrial makeover—they need cost cuts, boosts in scale and volume, and they need to put manufacturers first in their designs.
"There aren't too many plant managers who wake up in the morning thinking they have to use more 3D printing," Burns says. "They say they need better designs and better throughput and better costs. A 3D printer needs to be a tool for that."
There has been a little noise in the industry lately about a few companies trying to do exactly this—from desktop laser sintering to fantastical hybrid machines that mix additive and subtractive technologies in one envelope—but none have quite won over the market yet. There is one new startup, however, that looks like it may have finally cracked the code.
NEW KID ON THE BLOCK
"You caught us on moving day," Matt Sand says laughing. Behind him is a great clatter of noise and commotion and an echo through a new 13,000 ft2 facility in Gardena, CA, that he imagines will soon be filled with metal printers churning out parts for industrial customers around the world.
For now, though, he is content with just three machines in the space—with another 10 on the way—while the company finds its footing in this still undefined space.
Sand is president of a metal printing startup called 3DEO, a company he started barely year ago with a couple of PhD engineering wizards out of USC—Payman Torabi and CEO Matt Petros.
3DEO
Traditional binder jetting systems use retrofitted inkjet print heads to lay precise 2D layers of liquid binder on powdered metal—an extremely slow and meticulous operation. 3DEO's system binds the entire layer of powder in one quick pass and then cuts the part away with its CNC. Its "Intelligent Layering" system also allows the machine to cut, shape, and countour several layers at once to save time and increase efficiency during the build. This technique helps decrease 3DEO's final part cost by up to 80% compared to other metal printing systems.
Though they are fresh on the market, the group has found themselves in an interesting (and enviable) position already.
"For most startups, the biggest challenge is finding customers," Sand says. "But for us, it's figuring out which customers we actually want to work with."
And that's an important distinction from other players in the space. Because 3DEO has positioned itself purposefully to break metal printing out of its low-volume niche.
"We're not taking one-offs; we're not even looking at low volume orders," Sand explains. "We are selectively evaluating only orders of at least 100 pieces or over."
In metal AM terms, this scale is pure lunacy. Without a multi-billion-dollar factory full of machines, even a 100-piece maximum order should be impossible. A 100-piece minimum is something else entirely.
But that giant metal printing factory is exactly what 3DEO is out to create—minus the sky-high costs.
ATTACKING COSTS, BOOSTING STANDARDS
In most ways, 3DEO is set up as any other 3D printing service bureau: It will house the machines and experts needed to run them, and will deliver custom parts to the market wherever they are needed.
There's one major difference, though: it uses its own innovative 3D printers that are custom designed to disrupt the entire cost structure of the additive metal market.
The machines, Petros explains, are "stripped down CNCs" with a non-inkjet-based spray system, pieced together into a system that changes basically everything we know about either component.
As opposed to SLS laser systems which use a high powered laser to melt the powder, binder jetting systems use retrofitted inkjet print arrays to precisely bind together layers of powder.  This process produces "green parts," which are then cured in an oven once the part is completed. In traditional systems, this technique means slowly and carefully tracing each meticulous 2D layer of the build with high-precision spray nozzles all the way up through the finished part.
But not with 3DEO.
"We do this a little different," Petros explains. "We take a spray head and spray the entire layer with the binder, indiscriminate of where the part is. Just one quick pass."
Between layers, he says, the CNC component of the machine comes through and cuts the precise lines through the material to set it to spec. Better yet, the system can use its "Intelligent Layering" capabilities to delay cuts until absolutely necessary, trimming down and shaping potentially inches worth of material in a single CNC pass.
These innovations may sound trivial—and more than a little wonkish—but together, they add up to a legitimate revolutionary jump in the technology.
"There are three components to part costs in AM," Petros explains. "There is labor, there is the machine and maintenance, and there is material costs."
3DEO is attacking all three of these.
3DEO
By removing the precision required of traditional binder jetting machines—along with a few other innovations loaded in— "our machines today are an order of magnitude lower in cost than the next lowest cost metal additive manufacturing machine," Petros says.
And then, by going the service bureau model, labor and maintenance is absorbed by the company.
That leaves materials.
"We are using off-the-shelf MIM materials in our machines," Petros says. "We're not using some AM powder and calling it a specialized material. We are literally using MIM powders, so when parts come out of the furnace they can be held to MIM specs."
This last part does a couple of rather incredible things for the technology.
First, it allows a reduction in final part costs by as much as 80%—which seems like a significant enough achievement. But, by using MIM materials, the company is also able to position itself against a standard quality measure already well established in the market.
"Our idea was to attach ourselves to industry standards that people already rely upon," Petros says. "That way they can easily look at that standard and, if they already trust it, they know they can trust 3DEO."
And that is vital.